The Stork Sign

Stork Signs are a great way to announce the birth of a new baby. Stork Signs are perfect as a surprise gift or at a baby shower. A Stork Sign symbolizes a mew baby has arrived and the stork has been used as the signiture way to announce a new child for years.
Stork Signs from StorkDelivery.com specializes in the Lawn stork sign rental and stork sign rentals that are the most unique and professional stork signs in the country.

Special Occassion Stork Signs - Why our Storks ?
At a time thats so special, wouldn't you want the best Stork Sign ? We are the only company Nationwide that provides a professionally made stork sign. Our Storks always look the same and our Stork rental locations all provide you with the best selection of different style stork signs.


SEARCH for Stork Signs
in your area




Start Your Own
Stork Sign Business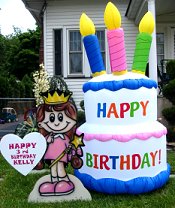 Stork Signs for Birth Announcements
Stork Signs :